Music is a relatively new subject to the school; this is the third year Music has been on the curriculum and due to its success, music provision at Alvaston Moor has expanded every year.  Music has been a subject offered to Key Stage 3 only for the past 2 years. This academic year, we will introduce GCSE Music (Eduqas) as an option in 2021 for the current Year 9 students.
How often do students have Music in Key Stage 3?
Students now have music 1 hour per week for the entire year, which means that students will study one topic per half term, therefore equalling six projects a year. Throughout KS3, students will study a diverse range of classical, world and modern music in order to develop the three competencies: appraising, performing and composing.
What do students study in Music lessons?
Students will learn about the Western Classical tradition, world music and modern music to give them a broad, knowledge-rich curriculum that is engaging and provides students with an understanding of other cultures.  It is important that students can appreciate all music and give an unbiased critique of music with an open mind; regardless of their personal taste.  Students will gain experience in appraising, performing and composing music on different instruments and via the use of music technology (sequencing – creating music on the computer). All topics studied and content covered has been carefully selected to prepare them for the GCSE course.
The curriculum plan for Music at KS3 is below. If you require any further details, please feel free to contact the school to speak with me.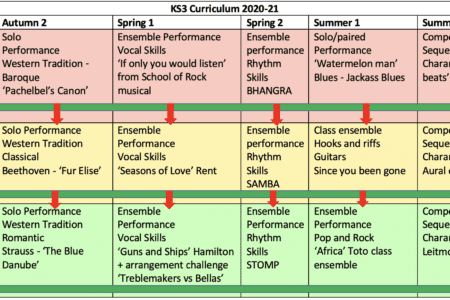 How are students assessed in Music at KS3?
Each project is assessed by a performance or composition in the final lesson of the term. Appraisal skills (music theory) are interwoven into each lesson, however, topic 1 will be a theory test.
What is expected at Key Stage 4?
Plans are in place to introduce GCSE Music (Eduqas specification) for the academic year 2020-2021. The intention for the topics studied at KS3 are to continue building the three competencies that students will be assessed against in their GCSE: appraising, performing and composing.
What qualities/skills do students need for GCSE Music?
It is compulsory for students to be taking private instrumental lessons (either in school or out of school) prior to starting Year 10 as performing is an integral part of the course. Instrumental lessons are essential to access good grades at GCSE.  Students, of course, need to be hard-working, pro-active and interested in Music.
How is the course organised and assessed?
Written exam 40%
Appraising includes music theory, aural skills, describing music using technical vocabulary and identifying key characteristics in music; this is assessed through a 1 hr 15min exam in Year 11 and will form 40% of the overall GCSE grade.
Controlled assessment – Coursework 60%
The performingelement is coursework-based. As a pre-requisite to the course, students will be expected to have already started private instrument lessons either in school or outside of school prior to Year 10, as they will have to submit two performances, 1 solo and 1 ensemble. The two performances will be recorded and submitted, which will account for 30% of the overall GCSE.
Students will need to show they are proficient at composing two pieces of music; one to a brief set by the exam board and the second is a free composition where students can set their own brief. Students can choose to compose in any style and method of their choice but they will need to record their ideas in a 'composition log' as evidence of their creative ideas. This coursework is 30% of the GCSE.
What extra-curricular activities are available?
Merrill Academy offer private instrument lessons free of charge to all students at Key Stage 3, as I am keen to encourage all students to learn an instrument without it depending on financial matters. Lessons last 20 minutes, students are one-to-one with a specialist teacher and lessons are in school hours.  We try to rotate the lesson times so students aren't missing lessons from the same subject.
We offer piano/vocal lessons Monday-Wednesday, Drum lessons on Thursdays and Guitar lessons on Fridays.
There are a number of extra-curricular lunch clubs on offer throughout the year, the most popular being 'Keyboard Club' where students can practise for their music assessments, especially if they do not have an instrument available at home.
The award winning 'Merrill Melody Makers' school choir are also very successful and have performed many times in the local community for concerts, conferences and workshops with other schools.  They have won multiple competitions and performed at Wembley Arena.
We also have a Winter Showcase and Summer Concert every year to allow our students the opportunity to demonstrate their hard work to parents/carers, friends and family.
A student in Year 7 won a local competition for the best music composition (beat-making) in Derby (for our 'Charanga' project) and will now have the fantastic opportunity of working alongside a well-known artist in a professional music studio for the day.
Last year, we ran a music trip to see the 'Halle' Orchestra play at the Royal Concert Hall in Nottingham to perform the music from the Harry Potter film series.
We have also had visits from other professionals such as a rapper, a music producer and a musical theatre vocalist.
Mrs E. Bradbury
Teacher of Music