Further Education includes colleges, 6th forms & training providers. Students study fulltime courses such as BTECs, A Levels, and T Levels. These courses normally take one or two years to complete and can be vocational (more hands-on & work related) or academic (more theory based).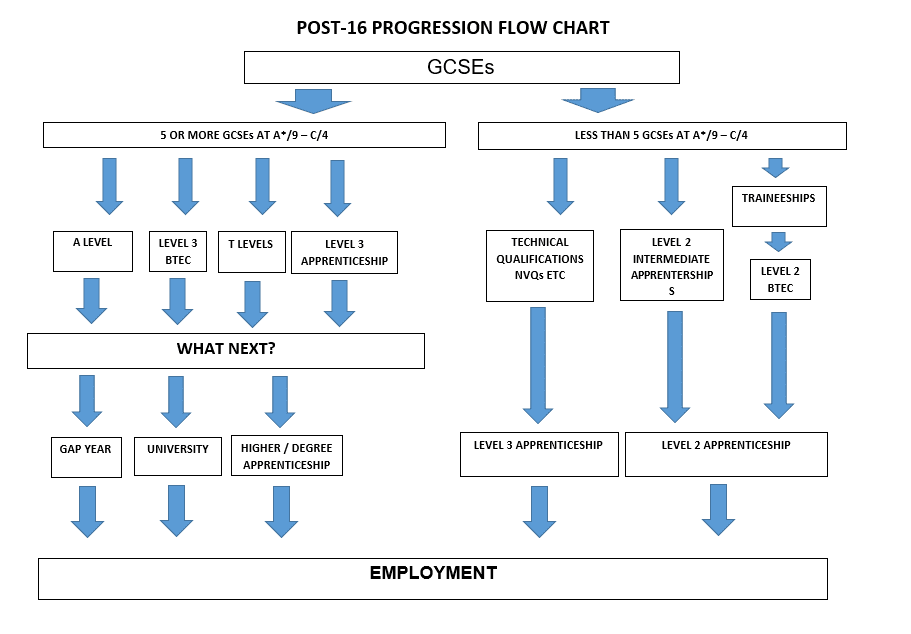 Deciding which subjects to study can be tricky, you should get as much information on courses as you can and book an appointment with our careers advisor if you need to using careersadvice@merrillacademy.derby.sch.uk 
The following websites can also help you decide:
For those not sure what to study
For those know which job they would like to do
For those whose career will involve going to university after 6th form or college
Please click here for information about Qualification Levels
Please click here for information about 6th Form, College & Training Provider
 Sixth forms
Sixth forms are normally attached to a secondary school and allow students to continue with their education into Years 12 & 13. Students normally follow A Levels and BTEC courses. Sixth forms are smaller than colleges and as a consequence offer a smaller number of courses, group sizes tend also to be smaller, often suiting students who prefer a continuation of the school day and routine.  
 You can find out further information about Local Sixth forms below:
Colleges
Colleges tend to be much larger than 6th forms and as a consequence can offer a greater number of courses. Colleges suit students who are able to manage their own time, want greater independence and a wider variety of courses.
You can find out information about local colleges below:
Applying to Derby College 2021
Derby College Youtube Channel
Welcome to Broomfield Hall https://www.youtube.com/watch?v=cC2yNdxcueU
Welcome to the Round House, Joseph Wright Centre & Ilkeston College, https://www.youtube.com/watch?v=hQnhxQNXuiU
Studying Equine at Derby College, https://www.youtube.com/watch?v=g6bK1az3q1k
The Roundhouse Campus, https://www.youtube.com/watch?v=k3LQMOx68AQ
Training Providers
A training provider is essentially a small college, there are a number of providers operating in and around Derby. They tend to be small with students enrolling in a roll-on, roll-off system as the academic year progresses. Each training provider has their own specialism and their own links with industry. Students who choose to take up a place with a training provider will progress towards vocational training, traineeships & apprenticeships. Training providers have strong pastoral emphasis and are ideal for students who need support and encouragement.
How to apply to a college, sixth form or a training provider
Colleges as larger institutions usually have a web based applications system, you'll be asked to complete an online application form, to do this you'll need to know your predicted grades for the end of Year 11, you'll also need an email address and telephone number. Remember to make a copy of all the passwords you create, this will ensure you can access online and email correspondence from the college. You may be asked to complete a personal statement and attend an interview. Colleges normally accept applications throughout the year, right up until the start of September and the start of the course. However, if you want to get on to an in demand course you should apply well ahead of course start date.
Sixth forms as smaller institutions, will in many cases still be using paper based application forms. You will need your predicted grades for the end of Year 11 to complete it. You will usually be asked to write a personal statement and may need to provide a reference written be your form tutor of head of year. 6thforms normally have an applications window, this is usually during the autumn term and is often associated with an open day or open evening. Applications should be made to the 6th form during this period, as applications made after the cut-off date may not be accepted.
Training providers take a more personal approach to applications and prefer students to make direct contact with them. If you are interested in making an application, visit their website, find the contact telephone number and make a call. The training provider will arrange an interview for you and will normally invite you to look around their setting. This will allow you to meet staff, see where you'll be studying and ask questions about the courses offered.
Remember, it is a good idea to attend open days & open evenings, this will enable you to meet the staff who will be teaching you, meet current students and look around the facilities that you could be studying in for the next one, two or three years. Many providers have virtual open days, if you look at their website, using the links above, you can find out more details.